Jun 18, 2020 09:04 PM Central
Dana Brigman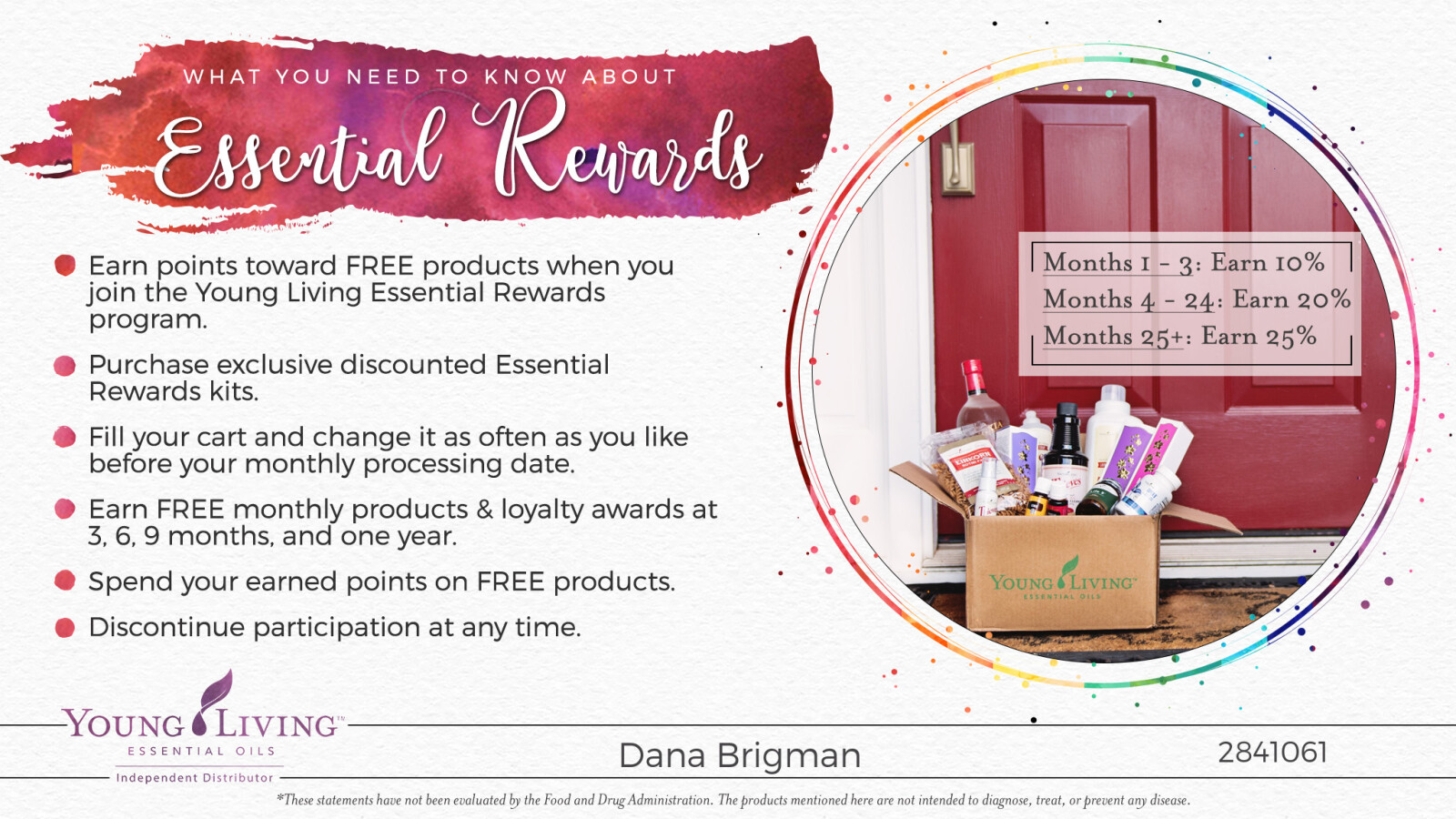 Are you diffusing scents of the season? Clove? Nutmeg? I am. I love the fall scents and one's that remind me of Christmas. Like Christmas Spirit - which could be free this month. In fact -- You could get all of this for free this month (November 2017)
Some of you may have seen this email explaining how the monthly promotions work before -- but I wanted to be sure we're getting everyone in sync. And it's a question I get asked often. And I often see people just a few $$$ short of meeting the next level incentive -- it happened to me many months before someone told me about it.
I want to share with you a bit of information about the monthly incentives. And we'll progress our way into how you can get other benefits within your account. Maximizing your budget & your freebies!
Each Month Young Living has a special promotion. See photograph as an example.
There are some things to note about how it works:
Every Member is eligible for the monthly promotion – regardless of your account type. This includes Retail customers too. So if you have been wanting to add to your collection, it may be to your advantage to consolidate the things you want to order, add a gift or two, etc and take advantage of that months opportunity.
It's based on spending in a single order. Not just that month, but ordered at the same time. It applies to if you do a quick order OR an Essential rewards order. '
In the example month if and essential rewards member had spent or do spend $300 you would get over $200 in free products. That's a little over 60% of what you spent in free products!

Ok, I know that seems like a lot to spend! There are other lower levels for incentives too. But let me tell you – I have found that when I offset buying other products (cleaning products, deodorant, shampoo, flea & tick spray, outdoor spray, some OTC products, make-up etc – the offset has been significant AND the rewards very beneficial – not to mention ridding your home of toxic chemicals and going to more natural, safer solutions.
This doesn't count the points back you get if you are Essential Reward member (up to 25% of your spending) – we'll cover that topic separately.

It even applies if you are just buying your starter kit in this month. The Premier Starter Kit (oils) for example is 100PV – so if you wanted to add some oils not in the starter kit, you could still get some free oils if you add the to your first order. (This info will apply more to people you may make a referral too in the future, since you are already a member)
You will note there is typically a special bonus offer to Essential Rewards members as well. That bonus for ER is not offered to quick orders or retail accounts.
If you happen to place an ER order AND also a Quick order – you can earn the promotions twice! It's rare to do that – but I've done it a couple of times when buying oils for my business, giveaways, or adding on something I forgot. The point is – if you think you're buying a lot one month – or someone asks you to buy something for them – you may want to split that order up!

We'll cover whether you should "sponsor" someone else's account to order their own stuff, even as a retail client later.
But I do sometimes order 1 or 2 items for someone who may be on the fence, or to replace something I've sold them from my stock, etc.

Don't forget you can set a PV Assistant to make sure you never miss your PV targets on ER or Bonuses & Commissions.
So give it some thought – think about your goals. And where you want to explore more products. Consider what we call Ditch and Switch -- to stop buying the harsh chemcial products you use in your daily life (Shampoo, Supplements, Make-Up, Cleaning Products, etc) and buy healthy products from within your Young LIving Account. The incentives and points add up to even more savings & freebies.
Most importantly – take advantage of these incentives! I have loved the freebies and trying new things. So even if you aren't on ER yet – plan your orders wisely to maximize your spending. Off to add something to a friend or family member to your order -- they try some things and you get to keep the incentives.
Questions??? I'm a message away.