Jun 19, 2020 07:29 PM Central
Dana Brigman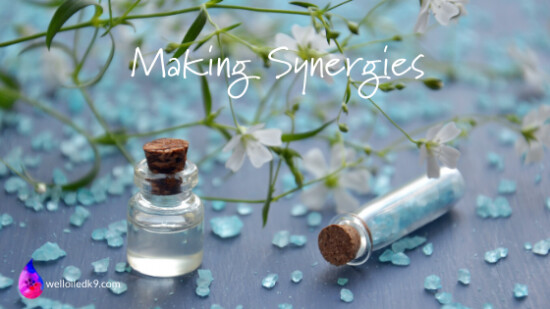 Essential Oil Synergies
Synergies are the creation of combinations of essential oils to create something entirely new. Think of it as combining a recipe of ingredients makes a soup or a pie. Individually, the ingredients have their own unique properties - but when combined, they become something different.
You can think of it as something that is greater than the sum of its parts.
The individual constituents work together "synergistically" to do something very special.
Synergies are blends. But you'll see that not all blends are synergies.
General Guidelines to creating your own synergy in a Roller Ball.
1. It is best to work with single species only when you are just starting out.
2. If you want to use a blend, only use one and add 2 or 4 additional singles.
3. It is known that working with 3, 5, or 7 singles makes the most effective synergies.
4. Choose oils within the same family and add 1 or 2 from a different family. (see family groupings list).
5. Once you select your 3, 5, or 7 oils, place them in order from mildest to strongest in aroma. Add them one at a time to a clean dry roller bottle. Start with only 1 drop of the strongest, then add 2-3 more of each as you go down the line to the mildest. Add more or less of one if you want more of that specific oil aroma.
6. Once you reach the desired aroma, place the cap on and allow the blend to synergize for 24 hours.
7. After it fully synergizes, add some carrier oil or use this synergy to make smaller rollerballs with more carrier oil.
Dilute based on your preference and needs.
Have fun with this. Trying breaking the rules if you feel so inclined. Just document what you're doing and your results, so you know next time how to recreate or what you may not have liked quite as much.
See Blending
See Diluting